Sponsored Links
Governor Ayodele Fayose, has said Professor Wole Soyinka's Nobel Prize was rigged. Recall when the detained leader of the Indigenous People of Biafra, Nnamdi Kanu made the same allegation during one of his live broadcasts on Radio Biafra thereby challenging Soyinka to a live debate and vowed to deconstruct the Nobel Laureate in just 3 minutes.
Olayinka has been a rabid critic of the playwright and Africa's first winner of the prestigious Nobel Prize in Literature ever since Soyinka grudgingly supported Muhammadu Buhari, over Goodluck Jonathan, in the 2015 presidential election which Buhari won.
Olayinka described Professor Soyinka's recent outburst against Nigerians who criticized him for not ripping his American Green Card into shreds as soon as Donald Trump was elected the United States president last month.
"When you are operating under the ANOINTING of a RIGGED Nobel Laureate, there is no way you won't say Nigerians are morons", he said on his social media account.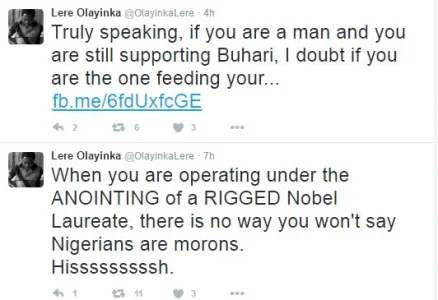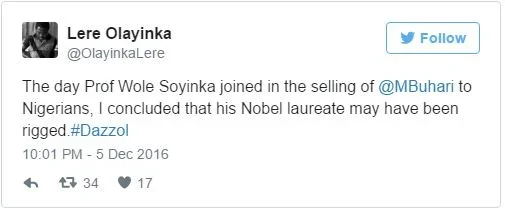 Follow Us on Twitter!
Like Us on Facebook!
Do You Need a Sugar Mummy, Sugar Daddy, Girlfriend, Boyfriend Wife or Husband? If Yes, Then Click Here For Details