Sponsored Links
A report by Oblong media claims that President Muhammadu Buhari does not call the shots in Nigeria and that the country is actually ruled by Mamman Daura, the President's uncle.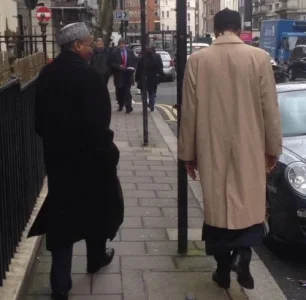 READ report below:
EXCLUSIVE: Who Rules Nigeria: MAMMAN DAURA or MUHAMMADU BUHARI? Shocking Insider Details Revealed.
The elected president of Nigeria is Muhammadu Buhari but there is a power behind the throne that many Nigerians are not even aware of. This person is so powerful and influential that he is said to have the closest ear of the president, more than ANYONE else. His name is Mamman Daura. The two men are related by blood: President Buhari is Mamman Daura's uncle although Daura is two and half years older than the president. The nephew-uncle relationship is described as extremely close and date back to childhood years. Now that Buhari is in power as the Commander-in-Chief of the Armed Forces, the relationship is said to have even taken another dimension entirely with Daura wielding near-absolute power and authority.
When Buhari overthrew Shagari in 1983, Daura was one of the few people Buhari trusted enough to give principal advisory roles. By the late 1980s, he had succeeded Ibrahim Dasuki as the head of the African International Bank. He later also served as chairman of the board of the Nigerian Television Authority (NTA) and if there is anyone who Buhari always listened to and confided in over the years, it is Mamman Daura but many are now complaining bitterly that the relationship is getting too close for comfort and will negatively affect all the policies of the Buhari administration which is already struggling to cope with economic and security challenges. In the photos below, when Katsina APC delegates went to pay Buhari courtesy visit as President-Elect, Daura was visibly by his side. He has never left.
Follow Us on Twitter!
Like Us on Facebook!
Do You Need a Sugar Mummy, Sugar Daddy, Girlfriend, Boyfriend Wife or Husband? If Yes, Then Click Here For Details